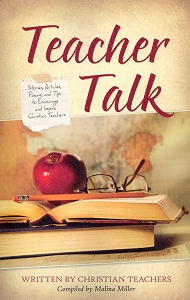 Good teachers watch for books on how to teach more effectively.
While the compiler found many helpful secular and religious texts on teaching, something was missing. She wished for more books that spoke to situations unique to Christian teachers of church-operated schools.
That was the inspiration for Teacher Talk, a compilation of wisdom gathered from the experience of nearly three dozen dedicated teachers.
You'll find practical teaching tips and inspirational articles and poems dealing with anything from lesson planning to student motivation to effective discipline and much more.